FCP Launches Digital Services for Construction Engineering
Vienna, im November 2022._ FCP extends its business area in the field of digitization and offers a comprehensive portfolio for digital services in construction engineering as first engineering consultant office in Austria
On 3 November 2022 the 10th Digital Engineering Day of FCP/VCE took place in Kuppelsaal of the Vienna University of Technology. Under the motto "Make Digital Work (for you)" experts discussed how BIM and other digital technologies can be successfully put into practice. In this framework a new business area of FCP (Fritsch, Chiari & Partner ZT GmbH), was presented: FCP plays a leading role and offers digital services in the fields of development and consulting under the term "Digital Services" for construction engineering.
Already more than ten years ago FCP has started to establish BIM as digital planning tool for building projects in the company. For digitization of construction engineering BIM is, however, only one of many tools and technologies. Digital services comprise the whole field of digital engineering as for example the development of digital workflows, software development, automation or digital building operation.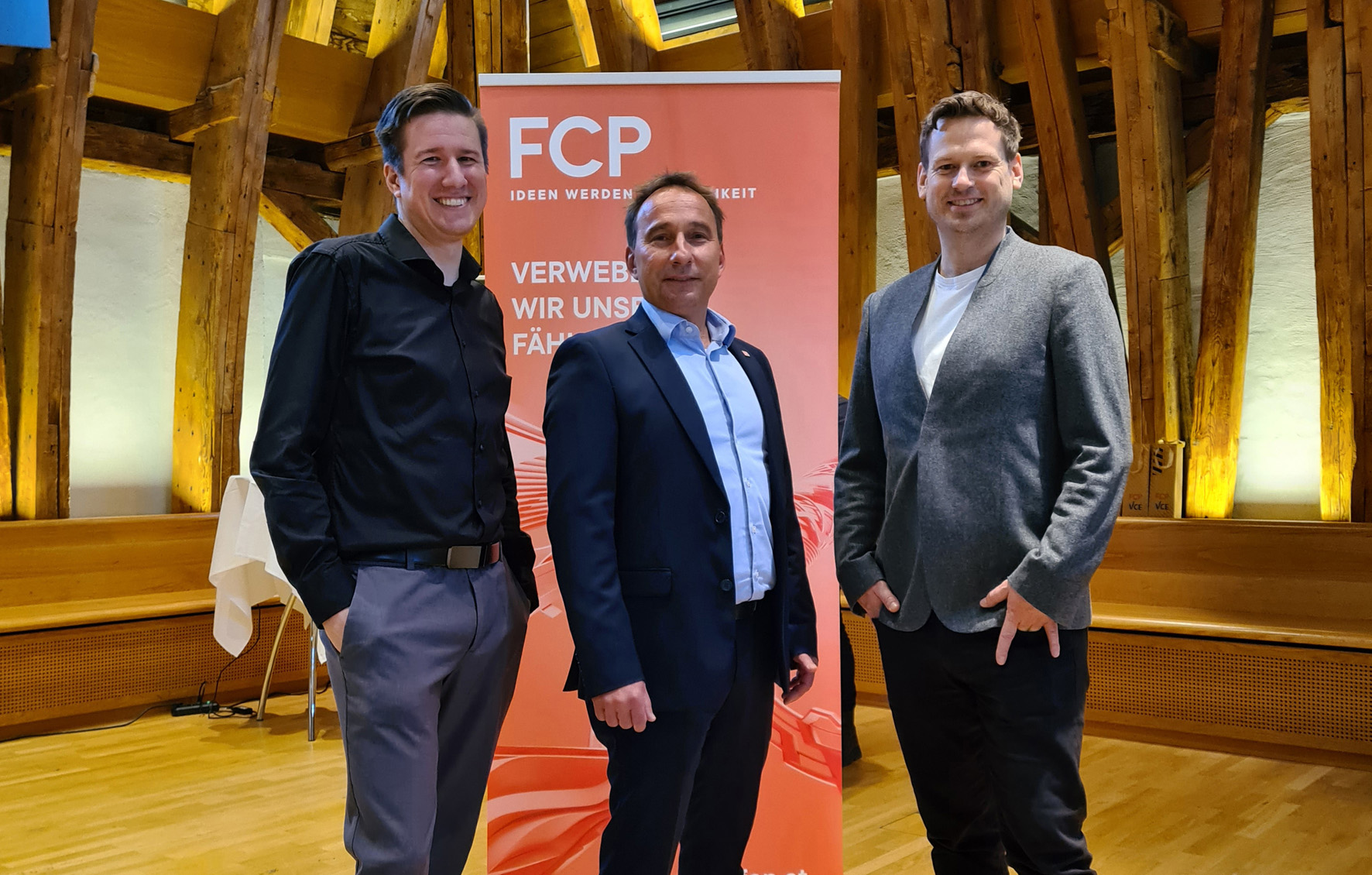 DI Frank Mettendorff, Head of CC Digital Services; DI Wolf-Dietrich Denk, managing partner of FCP; Peter O'Brien, Digital Services FCP (v.l.n.r.) © FCP
New Competence Center for Digital Solutions
"With the new FCP Competence Center 'Digital Services' we are further pushing on digital transformation and are developing practice-oriented digitization solutions for construction engineering", said Wolf-Dietrich Denk, managing partner of FCP. Among other things he is responsible for digital services, the development and integration of digital engineering as well as innovation in the company and sees essential advantages for the company and environment in it. "Digitization is an important prerequisite for practical sustainability in construction engineering." In an internal innovation competition FCP regularly awards the best ideas in the field of digitization. Some of them are already applied in practice.
 
See the Big Picture
FCP's digital engineering team is constantly growing to be able to implement specific skills in the company. Apart from the classical sectors of construction engineering also new skill sets from mathematics, physics and web development have been integrated. Frank Mettendorff, head of FCP's Competence Center 'Digital Services', has learned in his time as an architect that the potential of digital working is enormous but is hardly used in practice yet. "For the FCP employees BIM is only the beginning. BIM is an integral part of the digital solutions in construction engineering, the field of digital engineering includes, however, more and these future-oriented services are continuously further developed by FCP."
The digital services comprise algorithm engineering, web-app development, machine learning and data science apart from BIM management. "Digital tools customized for the respective project are required for innovative and sustainable building projects. What looks like an expensive investment at first sight is a cost-efficient solution at second glance", adds Mr. Denk. "By means of the development of project-specific solutions we can flexibly and quickly react to challenges in the project."
 
Digital Tools Tested in Practice
Apart from "classical" BIM projects and BIM consulting in the field of design FCP has already developed numerous practice-oriented digital products to create and successfully realize innovations and modern use cases with the whole know-how of the diversified company. The latter show the wide spectrum of possibilities where digital tools are applied.
"Pixel2Pset" is an automated BIM model generation based on data processing which was first applied in the motorway project A99 in southern Bavaria, and which received the buildingSMART International Award 2021.
"Wakrah Wukair" is a simulation tool for the efficient and automated generation and positioning of tubbing segments for the tunnel boring machines developed for the drainage tunnel in Doha/Qatar. These machines will drill a 13.3 km long tunnel by May 2023.
In the field of consulting for digital solutions some successes already resulted from the "classical" BIM coordination orders. Whereas "ABM-Bruck" focused on BIM from the building company's point of view in the construction phase, the "S36-STP" project focused on BIM from the view of site supervision and the processes of tender, award and accounting. Both pilot projects were performed for ASFINAG.
In a current BIM pilot project for the city of Vienna the BIM added values are tested in practice in the implementation phase and additionally a consulting order for the establishment of BIM checking routines is handled with which the building advisers can automatically check the space requirements by means of BIM models.
For BUWOG FCP successfully handled a project with BIM in the planning phase where the company-internal KPIs (key-performance indicators) were optimized via BIM and were recorded in a partly automatic way. This project is currently handled in the implementation phase by testing innovative BIM application cases in the building phase (e.g.: virtual reality, as-built-model via scatter plots). Thanks to the successful cooperation two further follow-up projects were initiated with BUWOG with ambitious digitization aims.
more information under the main focus Digital Engineering
Download images, image rights, captions:
FCP-Digital-Services-01.jpg: DI Frank Mettendorff, Head of CC Digital Services; DI Wolf-Dietrich Denk, managing partner of FCP; Peter O'Brien, Digital Services FCP (from left to right.). © FCP, printing free of charge

FCP-Digital-Services-02.jpg: DI Wolf-Dietrich Denk, managing partner of FCP, at the inaugural address for this year's Digital Engineering Day in Kuppelsaal of the Vienna University of Technology. © FCP, printing free of charge

FCP-Digital-Services-03.jpg: For the construction of the drainage tunnel in Doha/Qatar a special simulation tool "Wakrah Wukair" was developed. © FCP, printing free of charge
About FCP
FCP (Fritsch, Chiari & Partner ZT GmbH) with its headquarters in Vienna is an internationally active consulting engineering office with approx. 350 employees. With innovative power, know-how, passion and handshake quality FCP supports its clients in Austria and abroad in the implementation of sustainable and innovative projects. The planning and service activities in structural and civil engineering comprise climate protection concepts for municipalities, BIM-supported large-scale projects as well as building certifications, greening of structures and climate-friendly mobility concepts. FCP offers perfectly tailored solutions for individual project demands.
Press contact:
Bianca Schmidt, M.A.
Public Relations
Marxergasse 1B, 1030 Wien
+43 699 12707205
prkontakt@fcp.at
---