FMO Funke Media Office
Office building
In Essen's district "Grüne Mitte" the new headquarters of Funke Media Group with a floor space of 37,000 m² was established.
The project consists of three construction elements: media building 1, media building 2 as well as a parking deck for approx. 300 passenger cars.
The media building 1 was planned on two lots including a connection element (bridge) and partly a basement. Above ground there are five storeys (ground floor + four upper floors), the ground floor with mixed functions (reception, day-care centre etc.), the upper floors have classical office floor plans.
45127 Essen, Nordrhein-Westfalen, Deutschland
KK Berliner Platz 1 Entwicklungsgesellschaft mbH & Co. KG
© Krischerfotografie / KÖLBL KRUSE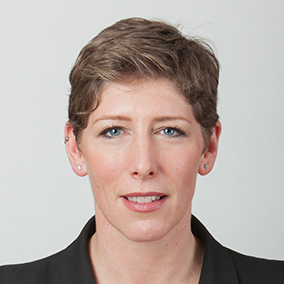 " The project duration was extraordinarily long and due to the complex project structure increased interface management was required. However, due to the successful team work a very satisfactory result has emerged. "
Marie-Thérèse Vierke
© Krischerfotografie / KÖLBL KRUSE
The round media building 2, the so-called media tower with news wall, was fully provided with a basement, and there are six storeys (ground floor + five upper floors).
FCP carried out the design services in consortium with AWG Architektur. The scope of services comprised all design phases including approval design.