FH St. Pölten Is a "Model Building"
For more than 50 years outstanding structures have been marked model buildings in Lower Austria by the government of Lower Austria. This year the renowned award was handed over to the prize winners within the scope of a ceremonial act on 24 October 2022.
The extension and the reconstruction of FH St. Pölten (university of applied sciences) is one of eight awarded projects. Mr. Joachim Lanschützer, managing director of FCP, accepted the prize together with the consortium partner Sascha Bradic of NMPB Architekten ZT GmbH and the local council Jürgen Kremsner as representative of owners, the municipal authorities of the town of St. Pölten.
The innovative building complex was completely processed in BIM and certified by ÖGNI – DGNB (Austrian and German Sustainable Building Councils) in gold.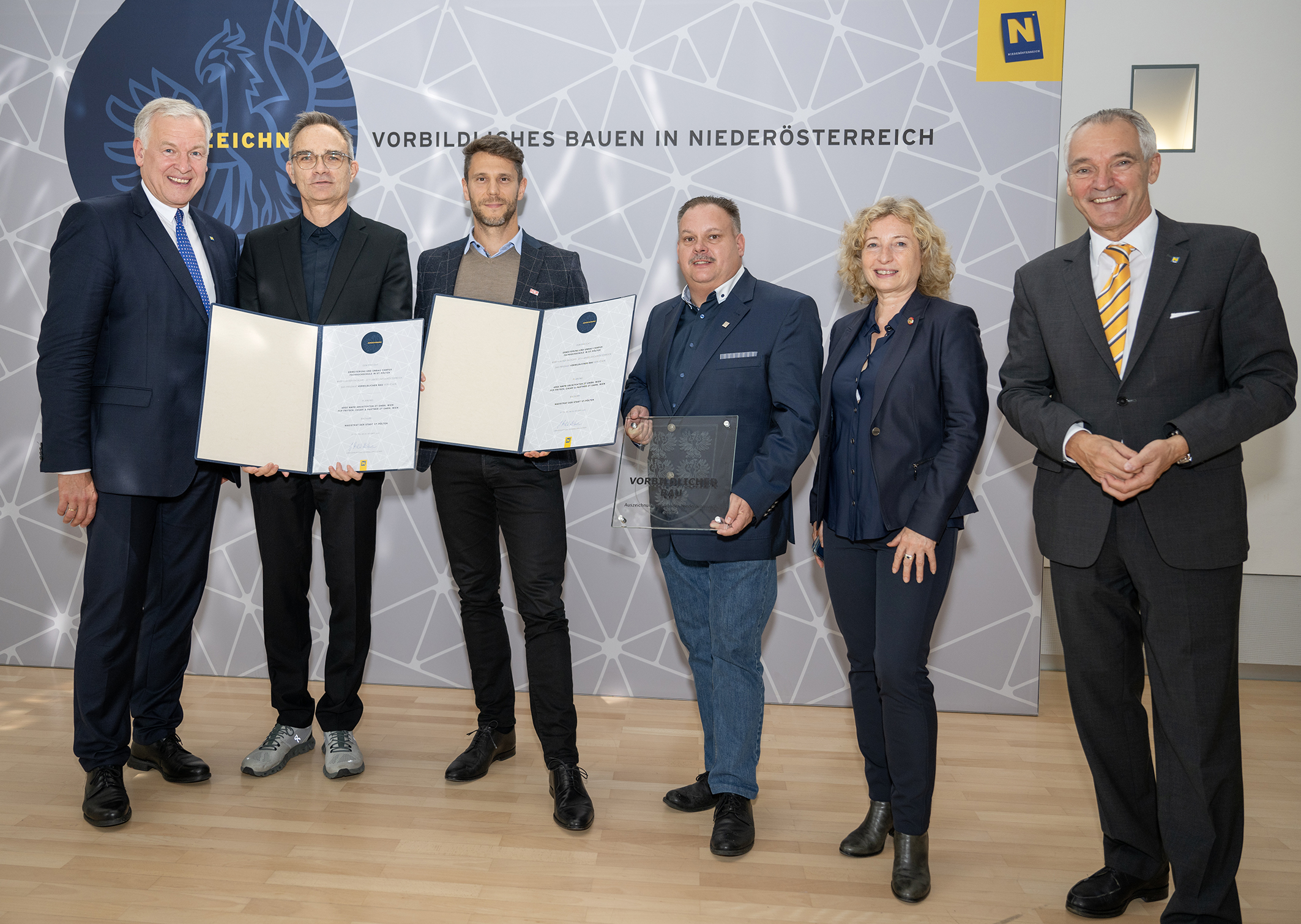 Dr. Martin Eichtinger, Landesrat Niederösterreich; Ing. Sascha Bradic, NMPB Architekten; DI Joachim Lanschützer, FCP; Gemeinderat Jürgen Kremsner, Stadt St. Pölten; Bundesrätin Eva Prischl; DI Walter Steinacker, Baudirektor NÖ © NLK Pfeffer
In connection with the existing building a campus area of approx. 33,000 m² is available. The new structure offers an impressive entrance hall and modern meeting and studying rooms. The public axis connects the new building with the existing structures and enables quick and efficient ways to all areas of the building.
The expert jury positively assessed the architectural concept for a modern educational institution as well as the accurate implementation of all details. Extract from the jury records:
"The annexe of the university of applied sciences and Bertha von Suttner private university in St. Pölten presents itself as four-storeyed white cube, structured with circumferential lines of windows and creates a harmonious optical unit. The auditorium connecting all floors, which fulfils the function of improved access as well as exhibition and communication areas, forms the core of the new site. Instead of big lecture halls for frontal lectures the space allocation plan provides for laboratory and seminar rooms as well as comfortably designed workplaces for students and administrative rooms with modern equipment. The publicly accessible library scores with working places in the campus garden. The high-quality materials and the accurate implementation of all details complete the integral model impression convincingly."
We are very proud of the award and thank our employees and all persons involved in the implementation of the project!
---