Climate Protection Concepts: How Communities Become Climate Neutral
Vienna, in June 2023._ The engineering consultants FCP support communities all over Austria on their way towards climate neutrality. On the municipal trade fair 2023 in Innsbruck FCP presented the municipal climate protection concepts for civil engineering.
The engineering consultants FCP (Fritsch, Chiari & Partner ZT GmbH) had a booth at the municipal trade fair in Innsbruck, the biggest trade fair for communities, on 21/22 June 2023 for the first time. FCP's climate protection concepts make communities, quarters and buildings more sustainable, worth living and fit for the future. Municipal climate protection has a great importance to help Austria to reach climate neutrality by 2040. The 2,093 communities all over Austria make an important contribution for the population by implementing local climate protection measures.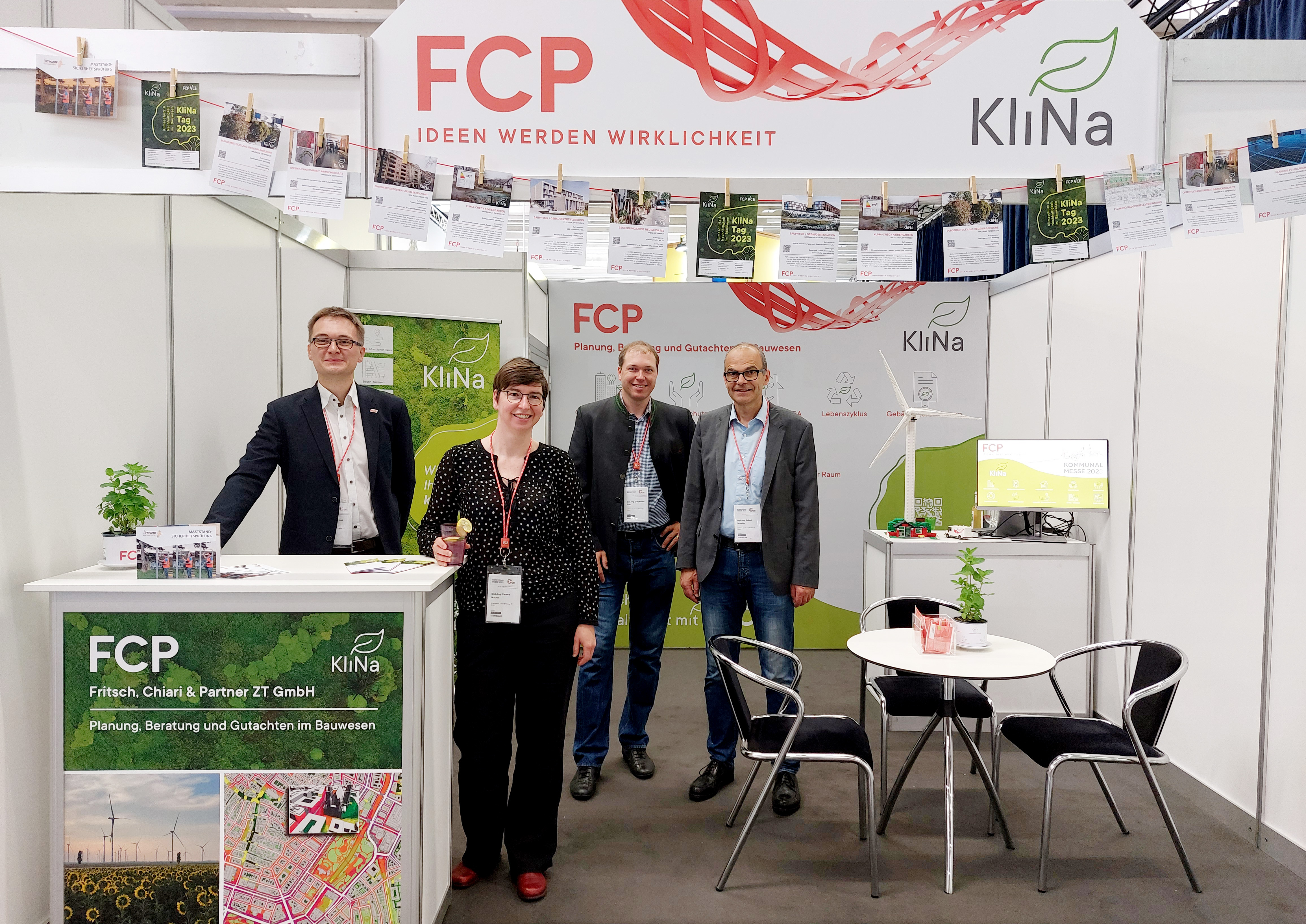 The FCP competence team for climate protection & sustainability on the municipal trade fair 2023.
On the Way towards Climate Neutral Community
As planning office in structural, civil and infrastructure engineering the focuses of the sustainable services of FCP are on energy efficiency and ecology in the fields of construction, rehabilitation, blue and green infrastructure, mobility as well as certifications. FCP concentrates all its competencies in the field of municipal climate protection with its climate protection concepts for municipalities.
"On the municipal trade fair we talked to many municipal representatives. They consult us with varied requests in the building and infrastructure sector", said Robert Schedler, managing director of FCP. "Numerous measures in civil engineering are needed to make municipalities climate neutral and we at FCP have developed suitable and individual solutions for them with our climate protection concepts."
 
Sustainable Construction, Rehabilitation and More
The sustainable services for the FCP climate protection concepts include the preparation of rehabilitation concepts for municipal buildings, greening of buildings, building certification as well as sustainable water management and climate neutral mobility. FCP also advises the communities regarding life cycle assessments and EU taxonomy. Digitization is inextricably connected with energy efficiency in civil engineering. For example, potential savings can be identified by means of simulations with computer models. The experts of FCP from various competence areas support and advise municipal representatives and building owners in climate protection projects and realize them together. The sustainable services of FCP are offered in an integrated way or divided into modules depending on the respective requirements of the municipalities.
 
Best Practices Already Implemented
"The correct mix of measures leads to positive synergetic effects", explains Verena Macho. She is responsible for the sectors Acoustics, Dynamics, Building Physics, Measurement & Instrumentation and pushes on the topic of municipal climate protection concepts. Furthermore, she heads the working group Circular Economy and Rehabilitation Cycles within IG Lebenszyklus Bau. "In buildings the focus is on an efficient energy, heat and cooling production and resource-efficient rehabilitation measures, but also the development of climate neutral mobility and target-oriented planning in the public area with greening and sustainable water management create liveable structures", states Ms. Macho.
FCP subjected the kindergarten of the municipality of Mistelbach to a climate check with the climate protection concept for construction and rehabilitation. The objective was to examine the potentials for thermic-energetic rehabilitation and the conversion to a sustainable heating and water system in combination with renewable energies as alternative to the previous fossil energy sources. For this purpose, FCP has elaborated a list of measures, prepared a comparison of concepts with a rough budget and assessed potential financial funding of the measures by the government and the authorities of Lower Austria.
FCP also planned a PV system on the roof of a single-family house in Perchtoldsdorf for the production of approx. 11 MWh/year as well as an air heat pump with 11 kW and supported the implementation of a renewable energy community.
Photo rights, captions:
TPA-KliNa_Kommunalmesse.jpg: The FCP competence team for climate protection & sustainability on the municipal trade fair 2023 © FCP, printing free of charge

TPA-KliNa_Projekt_Mistelbach.jpg: The kindergarten of the municipality of Mistelbach was subjected to a climate check by FCP © FCP, printing free of charge

TPA-KliNa_Projekt_Perchtoldsdorf.jpg: The single-family house Perchtoldsdorf produces more energy than it consumes thanks to retrofitting © FCP, printing free of charge
About FCP
FCP (Fritsch, Chiari & Partner ZT GmbH) with its headquarters in Vienna is an internationally active consulting engineering office with approx. 350 employees. With innovative power, know-how, passion and handshake quality FCP supports its clients in Austria and abroad in the implementation of sustainable and innovative projects. The planning and service activities in structural and civil engineering comprise climate protection concepts for municipalities, BIM-supported large-scale projects as well as building certifications, greening of structures and climate-friendly mobility concepts. FCP offers perfectly tailored solutions for individual project demands.
Press Contact
Bianca Schmidt, M.A.
Public Relations
Marxergasse 1B, 1030 Wien
+43 699 12707205
prkontakt@fcp.at
---