Petersplatz . Tuchlauben . Bauernmarkt
Climate-fit Petersplatz in Vienna Inaugurated
On 23 November 2022 the new encounter zone around Petersplatz in the centre of Vienna was inaugurated by the representatives of the city of Vienna. Thus, the redesign of Petersplatz has been concluded after an intensive planning and construction period. Gerhard Nestler of FCP was responsible for the design; Dr. Wolfgang Spitzy for the project coordination. In total about 7,000 m² of project area were designed with regard to traffic calming and climate fitness.
Thanks to well-aimed greening measures the microclimate and the quality of sojourn in the neighbourhood were improved. All in all 18 new trees and seven shrub beds were planted and five spray showers for hot summer days were mounted. The ample pavements were designed with light concrete stone paving. They provide that the surface in summer does not become too hot and the rainwater can seep away.
A further objective of the project was to calm the traffic on Petersplatz. This means that the conditions for pedestrians were improved but at the same time the individual traffic with cars, taxis and cabs as well as the public traffic were considered and a new cycle traffic infrastructure was integrated. The whole area around Peterskirche (church) consequently became an encounter zone. The pedestrians profit from the widening of the pavements. Thanks to the road design at the same level the whole area is now barrier-free.
Location. 1010 Vienna
Client. Dr. Wolfgang Spitzy
Services. Detailed design, project management, construction phase design, coordination of fixtures and fittings, design concept
Participating CCs. CC Traffic Design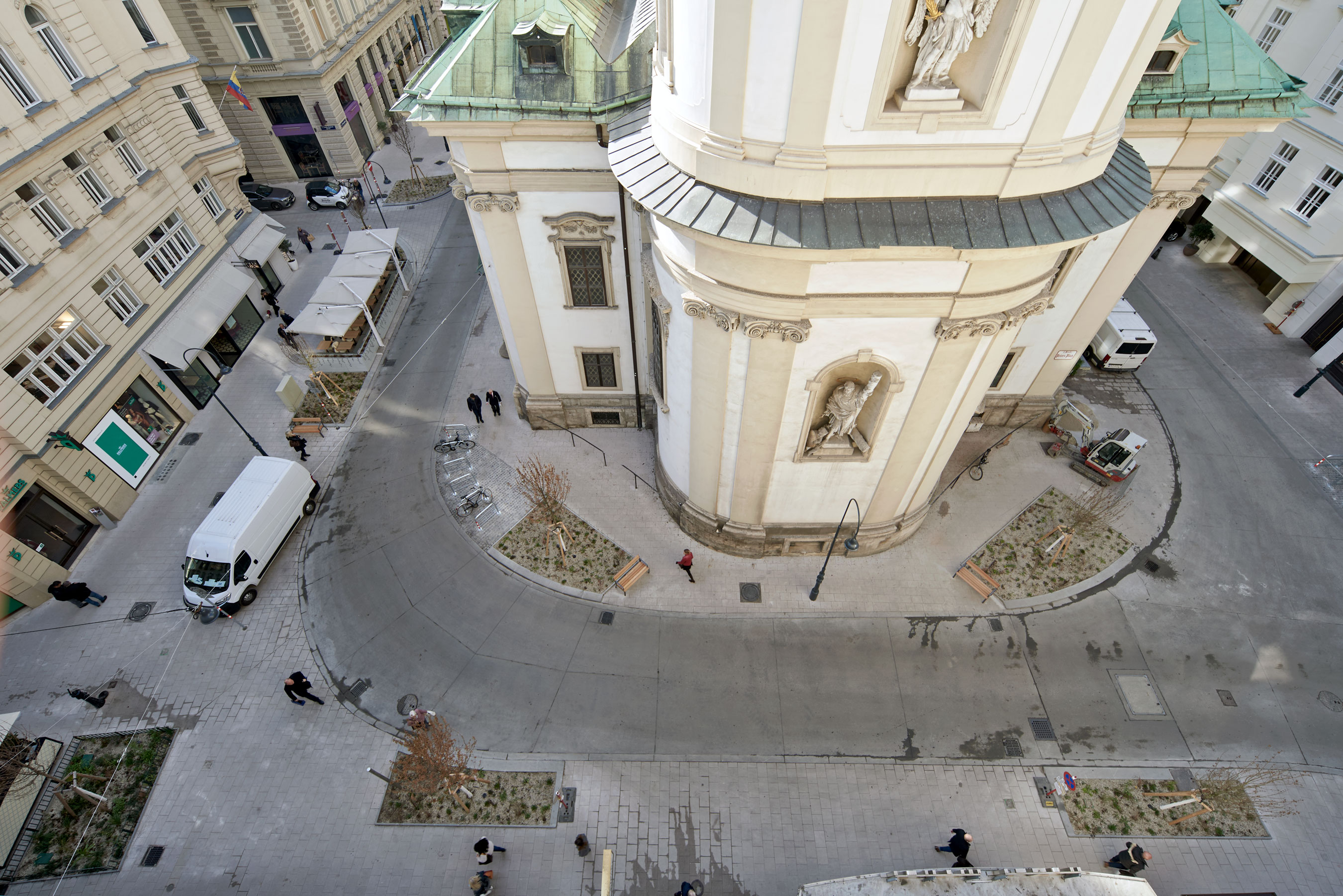 Petersplatz © Toni Rappersberger
---